– More Proof Emerges 'God's Medicine Cabinet' Has Bestowed Upon Us Amazing Miracles!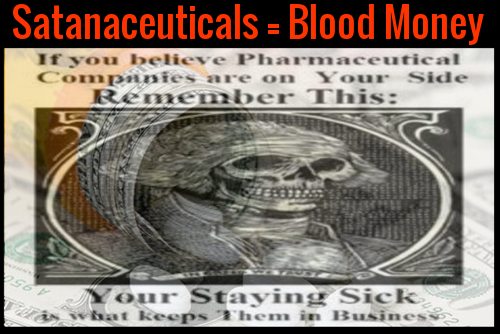 By Stefan Stanford – All News Pipeline – Live Free Or Die
The new story from UK's Mirror shares with us bombshell news that the mainstream media will never fully cover because it goes strongly against the globalists 'depopulation agenda' and 'Big Pharma's' never-ending pushing of 'satanaceuticals'. (Credit to Steve Quayle for coining that word.) Reporting that the active ingredient in chili peppers called 'capsaicin' can help beat cancer as it destroys cancer cells, surrounding them and killing them off according to scientists, they also report this new discovery could lead to the development of a cure for cancer.
Claiming that capsaicin could help fight breast cancer and that colon, bone and and pancreatic cancer could also be killed off by the compound, they report capsaicin has the ability to 'switch on' specialized channels surrounding cancer cells, causing them to die.
And while their story also claims that capsaicin IS NOT effective if its eaten, inhaled or injected and 'researchers think it will only be effective as a pill attached to another drug that targets cancer cells', we hear the blood-money hungry babbling mouths of 'Big pharma' itself in that statement, always trying to figure out a way to make money off of something that God gave to His people so that we have an alternative to using 'big pharma' and their deadly poisons.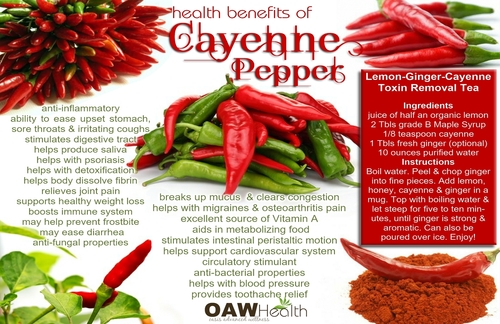 As we see, their story contradicts that 'big pharma-sounding statement' in a claim made within it by Dr. Lea Weber, writing in the journal Breast Cancer – Targets and Therapy, who stated.:
"Capsaicin is capable of inducing apoptosis (cell death) and inhibiting cancer cell growth in many different types of cancer, for example, osteosarcoma, colon, and pancreatic cancer cells, while normal cells remained unharmed."
Notice that Dr. Weber didn't say "capsaicin MIXED WITH ANOTHER DRUG" is capable of inducing cancer cell death and inhibiting cancer growth.
Just like 'big pharma' and their attempt to hijack the many healing powers of cannabis by turning it into a pill (so that they can continue lining their greedy pockets at the expense of Americans who are sick and dying!), those pushing their 'satanaceuticals' will attempt to hijack capsaicin, turning another miraculous plant that God gave His people into a drug they'll sell for 200 or more times its original cost.
As this recent story from USA Today and the first video below tell us, a number of doctors and pharmacists were recently indicted in a $100 million dollar fraud case that is only the tip of the 'corruption iceberg' in the big pharma industry. And as Infowars reported back in September of 2016, the fact that 'Bayer Nazis' had recently joined 'big pharma' in taking a giant step towards controlling the world's food supply proves there is no end to their lust for 'blood money'.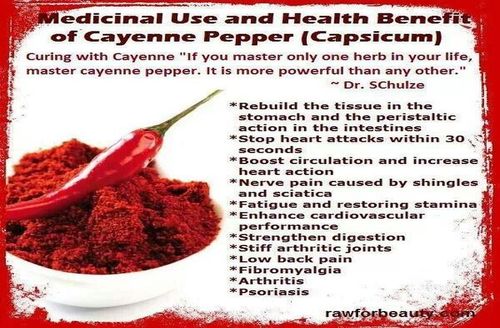 Long called 'the king of the herbs', capsaicin has been used as a medication for thousands of years according to this story at Natural News where they report that folklore from around the world has recounted amazing results in its simple healing of baffling health problems. Reported to be able to stop a heart attack within 30 seconds, its no wonder that 'big pharma' doesn't want 'the masses' to know about it, its many health benefits would cut deeply into their profits if most Americans used it regularly while avoiding their toxic poisons which regularly lead to the deaths of 100,000 or more people each year.

The famed herbal healer Dr. Shulze said, "If you master only one herb in your life, master cayenne pepper. It is more powerful than any other."
As the Natural News story also reports, whenever any body part is sick, the blood flow to that area is usually affected. Cayenne helps to remove that blockage and stimulates the blood flow so that the vitamins are properly delivered to all areas of the body and waste is removed.
Reported to be an absolute miracle herb for the heart, the number or illnesses to which capsaicin allegedly helps to heal is mind-numbing and as Happy Prepper reports, capsaicin should be a part of any preppers medicine cabinet. Capsaicin can also be used as an ingredient in making homemade tear gas in case one is attacked by criminals during a SHTF situation according to this story from survival website US Crow.
Why should we all stock up on cayenne/capsaicin? The reported benefits include.:
analgesic (pain relieving) qualities.
anti-bacterial, antiseptic and antimicrobial properties for healing
anti-diabetic properties to help regulate the blood sugars
anti-fungal properties to help athletes feet and more,
anti-inflammatory agent to help heal many ailments
anti-carcinogenic to help mitigate cancer risks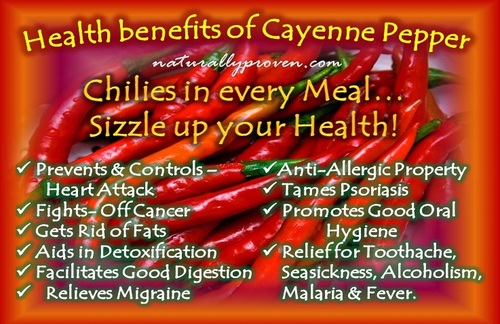 A potent fat burner according to Muscle and Strength, we see why capsaicin is one of the worst enemies of 'big pharma' as Bloomberg reported back in June of 2016 that the painkilling properties of chili peppers could help those addicted to opioids get off of big pharma poisons while providing some relief for the 100 million Americans who suffer from pain daily. Also listed by the Health Moderator as one of the alternatives to feeding the 'big pharma pill monster', there is nothing like personal experience to prove if something works or not.
And with big pharma only staying in business if we remain sick, there are all the reasons in the world to attempt to get as far away from their poisons as we can – the best way by becoming as healthy as we can possibly be.
Susan Duclos and I can personally testify to the absolutely amazing power of capsaicin in helping me to get beyond a chronic sinus infection that had plagued me for more than thirty-five years and which no doctor or medicine from big pharma had ever been able to help me with. Avoiding doctors and big pharma and their 'satanaceuticals' like the plague, I've turned to all natural healing and am absolutely stunned at how quickly capsaicin has helped me reach a whole new level of good health.
Mixing two capsules of 100,000 HU (heat units) capsaicin into a hot tea along with a half a tablespoon of lemon juice, a tablespoon of manuka honey and a capsule of ginger, I've found that not only has my 35+ year long long chronic sinus infection gone away but my overall health and energy level has picked up dramatically in the few weeks since I started drinking it daily.
Still avoiding big pharma and their 'satanaceuticals' like the plague, along with ginger, garlic, turmeric and manuka honey, cayenne has become a huge part of my every day diet and thanks to He who I owe everything, has helped to keep me away from the doctors office and big pharma and their poisons for many years now.
We'd love to read in the comment section below any experiences that any of you might have had with capsaicin or any of the countless other miracle plants or herbs that God has given to His people so that we can avoid the deadly poisons of 'big pharma'. We have found that, as human beings, what works for one person often works for another and that in having an open forum to discuss such topics, you may help to save somebody's life.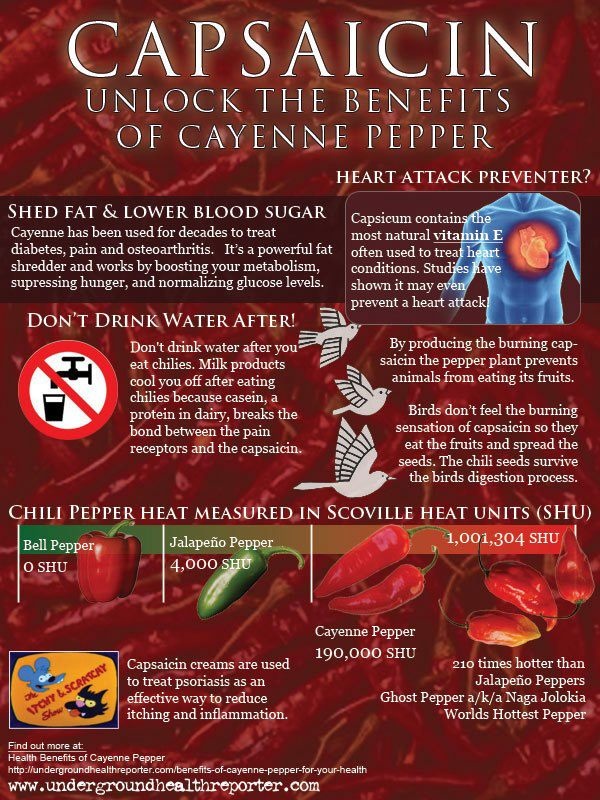 https://allnewspipeline.com/More_Proof_Of_Gods_Cabinet_Of_Miracles_Just_For_Us.php